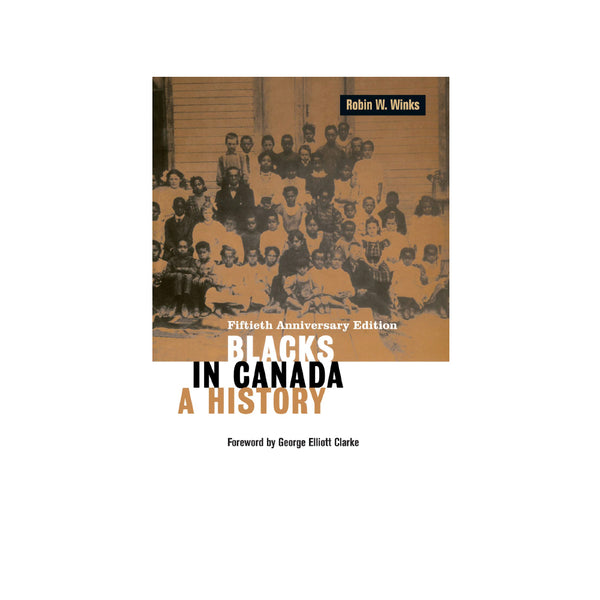 Blacks in Canada: A History
Blacks in Canada: A History
Author Robin W Winks

Blacks in Canada journeys from the introduction of slavery in 1628 to the first wave of Caribbean immigration in the 1950s and 1960s. Heralded in the Literary Review of Canada as one of the one hundred most important Canadian books, this enduring work by Yale University's Robin W. Winks offers a wealth of information for fresh interpretation.

Now, fifty years from its original printing, this third edition includes a foreword by George Elliott Clarke, E.J. Pratt Professor of Canadian Literature at the University of Toronto. Clarke's contribution adds a necessary critical lens through which twenty-first-century readers should view Winks's research. The longevity of Blacks in Canada is due to an impressive array of primary and secondary materials that illuminate the experiences of Black immigrants to Canada. These experiences include the forced migration of enslaved Black people brought to Nova Scotia and the Canadas by Loyalists at the end of the American Revolution, Black refugees who fled to Nova Scotia following the War of 1812, Jamaican Maroons, and fugitive slaves who fled to British North America. The book also highlights Black West Coast businessmen who helped found British Columbia, particularly Victoria, and Black settlement in the prairie provinces.

Crucially, Blacks in Canada investigates the French and English periods of slavery, the abolitionist movement in Canada, and the role played by Canadians in the broader continental antislavery crusade, as well as Canadian adaptations to nineteenth- and twentieth-century racial mores.